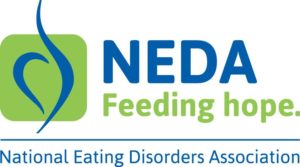 Every year in late February the National Eating Disorder Association (NEDA)  hosts eating disorder awareness week.  This year's theme is "It's Time to Talk About It".
I love this theme as often people struggle for years with eating and exercise problems in silence.  Due to our crazy diet culture, it is hard to separate what is normative and what is an eating disorder.  Furthermore, there are a lot of people struggling with sub-clinical eating disorders or disordered eating.  Sub-clinic eating disorders mean that someone struggles with food issues, but doesn't meet the criteria for a full-blown eating disorder.
Clinical eating disorder or disordered eating causes pain to the sufferer and those around them.   Therefore, the key is getting help & not suffer in silence.
NEDA is a great place to start they offer:
⇒Free and confidential on-line screening tools
⇒Confidential helpline
⇒Blog and videos from recovered individuals & clinicians
⇒And much, much more!