Continuing Education For Counselors
Helping therapists provide ethical & effective treatment to clients with eating disorders and other food & weight-related concerns.
Eating disorders, negative body image, problematic eating patterns. These are very real challenges that our clients struggle with. Ever have a client express that they:
Aren't sure if they have an eating disorder or not?
Feel "addicted" to food?
Feel like a failure because they can't stick to a diet, but worried about their health?
Are obsessed with dieting?
Worry constantly about their weight & shape?
Feel bullied about their body weight from peers or family?
If you've ever had a client challenged with experiences like these, they may have had an eating disorder or been at risk for developing one.
I'm here to help therapists and counselors help their clients with these challenging experiences. Through talking with colleagues I know how hard it can be to help. When a client shows signs of having an eating disorder or other food & weight-related concerns, do you feel:
Your own struggles with body confidence are a barrier to providing quality care?
Your own biases about body size may be getting in the way of your clinical work?
The training that you had on eating disorders was not enough?
Lost in the sea of fad diets that your clients may be using & making their eating problems worse?
Confused by your clients who live in larger bodies ("overweight" clients), but don't "do" anything about it?
Unsure how to help clients living in larger bodies navigate weight bias & stigma that they experience on a daily basis?
If these mirror your experience, I'm glad you're here. My support will help you help your clients with these challenges while also allowing you to gain your own insight to your food and body stuff as well. And help getting to the core discoveries that you can use in your sessions.
I Will Share My Knowledge And Experience With You
Eating disorders & related concerns have been my clinical focus for over 15 years. Even though we've never met, I believe you have the ability to truly help your clients along their healing journey.
I can help you discover how to take clients from worry and obsession to feeling calm and happy in life again. I believe you can have this ability even if you struggle yourself in food & body image issues.
You can feel better about your knowledge of what eating disorders and other food & weight-relate concerns and gain the knowledge and skills you need to help your clients heal.
Get More Conscious About Eating Disorders & Related Concerns, Help More Deeply
Get on my email list below and join the movement! A movement of therapists like you who are working on getting conscious & ethical about eating disorders & related concerns so they can help their clients (and get some healing for themselves along the way,too).
When you're on the list, you'll get a free guide to helping clients with body image to get you started. I'll also be sending out emails regularly with free eating disorder & related concerns counseling guidance. Plus you'll be the first to know when I launch upcoming courses.
Already on my email list? Head over to my blog for insights that can help you start expanding your knowledge of eating disorders. Glad that you are here. Feel free to stay a while.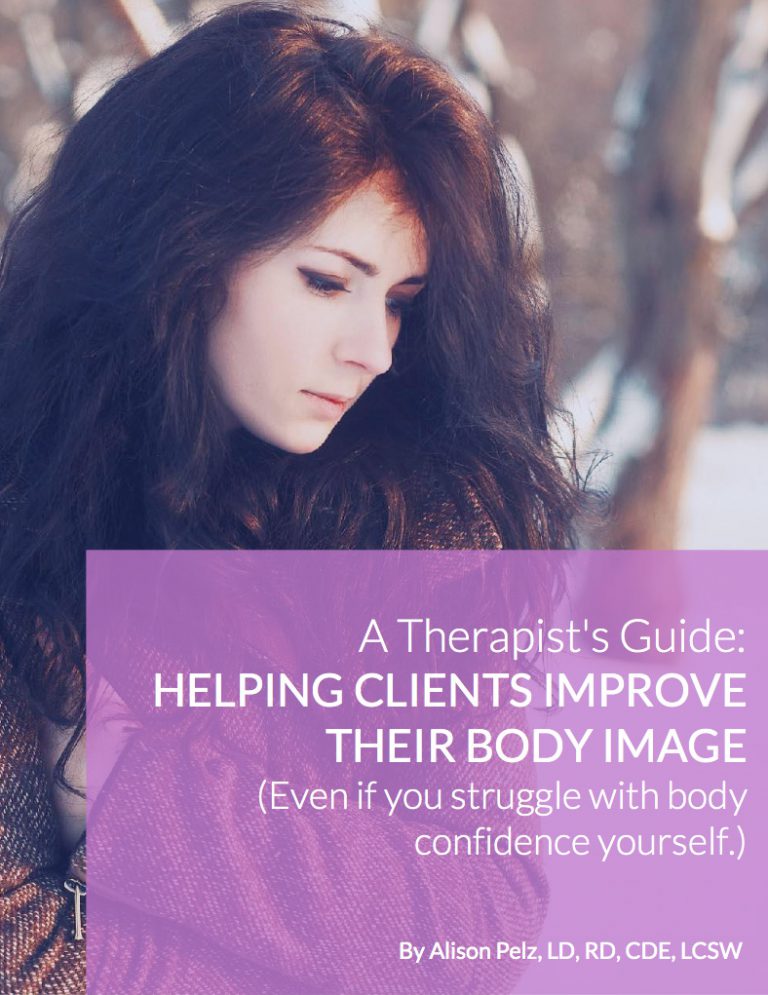 Help Your Clients Gain Peace With Food And Their Body
We'll talk counseling tips, share-worthy guidance, and step-by-step processes you can use to help your clients. Plus you'll get a download my free ebook: A Therapists Guide: Helping Clients Improve Their Body Image (Even if you struggle with body confidence yourself).